About Faith Soloway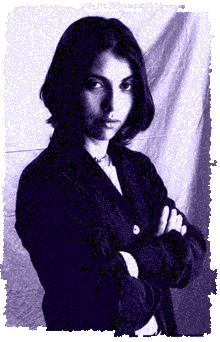 Faith Soloway has been hailed by critics and audiences as one of the best and brightest of the Boston area's singer-songwriters. What distinguishes her from the rest of the pack in this crowed scene is the theatrical nature of her shows. Whether singing with her animated, energetic band, The Faith Soloway Crisis, or creating and performing in one of her many comedic "Schlock Operas," Faith has built a very large and VERY devoted following because she provides the folk-scene with attributes it so desperately needs: humor, showmanship and, most of all, humility.
More a descendant of Whoopi Goldberg, Lilly Tomlin and Sandra Bernhard than of Joni Mitchell, Joan Baez or Judy Collins, Faith is a comedic performer who has been welcomed into the warm and fuzzy folk family like a rebellious teenager who has made good and become hip to hang out with. Not really a "funny song-writer" or a folky-with-a-sense-of-humor, Faith is a self-reflective satirist, a pop-culture whore, and an over-the-top ham who is, none-the-less, able to shine the light of truth wherever she focuses her gaze. Through her songs she can create characters, connect with them and make them real for an audience. Then, nine times out of ten, she'll turn them inside out and let the audience in on the joke.
Faith came to Boston by way of Chicago and Hollywood. During her years studying Theater at Indiana University, she performed every week in an improv group, that included Mick Napier (who would later found Chicago's Annoyance Theater), and composed music for shows put on by her other friends. One such show was a production of "Twelfth Night" set in Club Med. When that show was taken to Chicago's Victory Garden Theater for a month, Faith was approached by a producer from Second City, the legendary comedy organization which launched the careers of John Belishi, Bill Murray, Gilda Radner and countless others. He was looking for someone to fill their newly vacant musical director spot, and offered Faith the job.
Faith left school, began touring with the Second City, and then joined a one of their resident companies, which allowed her to work with other theatrical organizations as well. One of them was the now-formed Annoyance Theater where she co-created "Co-ed Prison Sluts," which became Chicago's longest running musical.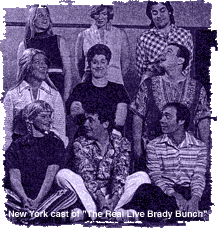 During her three years as Second City's music director, she scored the comedic scenes and wrote original and parody songs for each review. One that got a big audience reaction was a parody of the Jefferson Airplane song "White Rabbit," with the line "Go ask Alice..." In Faith's version, the Alice that's referred to is Alice Nelson, the maid on the 70's TV sitcom "The Brady Bunch."
Soon after, Faith found her sister and a friend watching a "Brady Bunch" re-run, and the friend was reciting all of Jan's lines verbatim. At that instant it hit her – this would be a really hilarious thing to see reproduced exactly on stage. A theater company she was working with at the time thought it was just the sort of anti-theater they were interested in presenting
That led to the creation of "The Real Live Brady Bunch" which Faith directed with her sister, Jill. The show premiered in 1990 to an audience made up mostly of friends, but within a week word of mouth had created such a buzz that crowds were lining up around the block. That led to the Soloway sisters taking the show to New York, Los Angeles, San Francisco and Boston, as well as to college campuses all around the country. It was written up in Rolling Stone and People magazines and generated a media buzz which spawned nationwide revival of the camp 70's sitcom.
The Soloway sisters were lured to Hollywood with the promise of reaping great rewards from their hit show, but Faith immediately knew that the competitive lifestyle of Hollywood would not suit her. Predictably, when "The Brady Bunch Movie" went into development, the executives went from talking about the Soloways directing it, to being in it, to maybe helping to cater it - all in about a month. They ended up just being contributors to the script.
The sisters then directed a special for FOX about favorite TV commercials, but by then Faith knew she was not interested in devoting her life to this kind of work. She wanted to try her hand at songwriting. She moved to Boston, following her belief that the best way to learn an art form and to see if you've got what it takes to survive is to go to where there are millions of others trying to do the same thing you're trying to do. It didn't hurt that she had also begun a cross-county romance with the sister of the actress who had played Jan during the Boston run of the "Real Live Brady Bunch".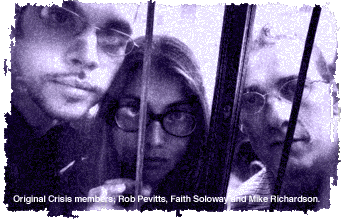 Arriving in Cambridge in 1994 Faith hit the open mic scene and quickly became known and respected not only for her sense of humor and strong singing voice, but for her ability to create the characters that inhabit her songs. Her between-songs banter also endeared her to audiences. One holdover from her Annoyance Theater days was her lack of a an inner censor and love of shocking and surprising people. The folk audience wasn't accustomed to that, and found Faith a breath of fresh air.
In addition to the folksters, the lesbian community was quick to embrace Faith as one of their own. Since much of her humor is directed at herself, her material often takes on a lighthearted lesbian slant. The first song she wrote, "Lesbo Song" is indicative of how she celebrates her gender and sexual identity while at the same time takes pot shots at the often overly-earnest 'women's music' genre. There is nothing ironic about the tone of her songs – they simply demonstrate that part of celebrating who you are is being able to laugh at yourself.
By the time Faith started to play gigs at Club Passim, Harvard Square's historic folk music club, she had a desire to do more that just stand on a stage and play her songs. That led to her series of Rock Operas at Club Passim. They began simply. Her first show, "The Principle and the Potter," had a three person cast and very minimal structure.
Later shows like "The Folkxoreist", "The Lezboat" and "Jesus Has Two Mommies" were more ambitious, featuring notables, like Catie Curtis, Jennifer Kimball and Mary Gauthier. These slows were very loose, with the cast members often writing crib notes on their hands rather than memorizing their lines. Audiences embraced them none-the-less, and the shows were always sell-outs.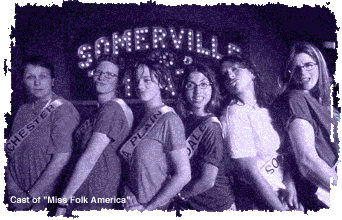 As these show grew from 15 minute show closers to 50 minute main attractions, Faith worried she might be asking too much of her budding folk thespians. However, the more she asked from these singer-songwriters, the more she got - not only in terms of their acting abilities, but in terms of how far they would go to get a laugh. The last two Rock Operas, "Miss Folk America" and "Debbie Does Falcon Ridge," featured large all-star casts and pushed the envelope of raunchy humor much further than any of the performers would have ever considered before they met Faith.
The delight in testing those limits and taking risks on stage is part of why so many singer songwriters want to work with Faith, and part of why it's so much fun for the audience. Watching her shows one gets the feeling that you are seeing something happen for the first time because, in most cases you are. And seeing these normally serious songsters playing outrageous characters (or caricatures of themselves as in "Miss Folk America") is a delight to their own fans.
In 2000 Faith decided to expand one of her shows to a larger venue. She chose to do "Miss Folk America" at the Somerville Theater. Her main challenge was to expand and polish this very loose 50 minute production into a full scale, 2 hour extravaganza without loosing the quirky and intimate feel of the piece. Faith approached producer / filmmaker Ian Brownell to create several short "behind-the-scenes" video clips that would be woven into the fabric of her expanded script and fill in the narrative and backstory. Another key change was the addition of the song "Queer in Revere," which had been the big hit from "Debbie Does Falcon Ridge" and has since become a kind of signature song for her.
The 2000 "Miss Folk America" required months of prep-work for what was to be a one-time-only production. Scheduling the rehearsals and video shoots was difficult, as the cast was made up almost entirely of touring musicians. But as with all Faith Soloway productions, things magically fell into place.
The sold-out event was captured in a video which has now sold all over the world. "Miss Folk America" was such a hit that the cast reunited for an encore performance in May of 2001, and Soloway and Brownell, working as Smell My Productions, began to develop new Schlock Operas.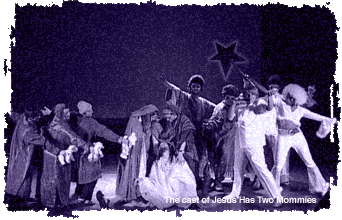 In December of 2001 the multi-media version of "Jesus Has Two Mommies" hit the Somerville stage and was so successful it was brought to Boston's Copley Theatre for an extended Christmas weekend run. A video and CD were produced from the Copley shows. Faith and her co-producers revised "Jesus" for an all new production in December of 2002.
2003 saw the release of the first Smell My Productions DVD, a special edition of Miss Folk America loaded with bonus features. After the big DVD release party and show Faith took some time off from performing to concentrate on being a mommy. She also re-teamed with her sister Jill to write a pilot script for HBO about a Jewish super hero called, "Jewess Jones."
This year Faith and the SMP team are mounting a brand new show called, "The F Word," a parody of Showtime's groundbreaking drama, "The L Word."

One of the main lessons Faith has learned from her experience in theater is that elbow grease is as important as genius. "Anybody could have had the Brady Bunch idea," she says, "The success was in actually doing it." The same applies to the Schlock Operas. Like any labor of love, they require a ridiculous amount of time and resources, but everyone involved feels it's worth it. Faith's audience is one of the most appreciative and enthusiastic around, and these shows are unlike anything else in the music scene, the theater scene, or the comedy scene. In today's pessimistic, overly-ironic, retro-loving culture, Faith Soloway is a unique voice; sweet yet sharp, carefree yet committed, goofy yet hip, As the Boston Globe's Scott Alarik has said, "Though she explores the dark corners of the human condition with a poet's zeal, she also does it with a keen wit and kindhearted empathy that makes her that rarest of artistic creatures, a likable cynic."